Today and Tomorrow
This morning Ellie and I went to my first appointment with my obstetrician, everything's looking good. Bubby's heartbeat was 150 bpm, my fundal height is 23cms. We talked about Ellie's delivery and my options for this Bub, he gave me some info on
caesarean
and
VBAC
(vaginal birth after caesarean). I don't have to make my decision until I see him at 36 weeks, however, I am pretty sure I will go with a repeat caesarean. The fact that it will be only a few months over a year since I had to have one to deliver Ellie is one of the biggest reasons for this choice and from the research I have done I think this is the option for me. After my painful contractions but 'not being in labour' I am kind of scared of natural birth, too. At the same time, though, I am scared of a c-section!
When we decided to go ahead with it I had been in hospital for a day, waiting to go into labour. I'd had painful contractions, sometimes 2 minutes apart that were doing nothing. I was worried about Ellie and scared about what it would feel like when I was actually in labour, plus the chance of me needing an emergency caesarean in the end anyway meant that making the choice to go ahead was reasonably easy and once we'd made it I wasn't as scared as I thought I would be. Now, it's different because I am planning it and know that it's the road we'll go down.
In another way I feel relieved that there wont be that horrible time of waiting. There'll be no chance of going over and being a horrible grump like last time. I was so uncomfortable, scared, nervous, impatient and as the days ticked by it got worse. Everyday my mum would make me walk, walk, walk. She bought me pineapple juice, chinese. Then we would do more walking. It was the longest wait of my life and I never want to be 41 weeks pregnant again!! The Ob said that he can't say whether I would go over and need to be induced again though there is a good chance.
Even though I don't have to tell him what we've decided until I see him next at 36 weeks, he told me the date he would perform the C-section if that's the choice we make. So, we'll be meeting Bubby on the 4th of December! Yay!
Tomorrow I have my 20 week scan, I've been so impatient to have it. I really hope they will tell us what we're having, but I am feeling less and less positive about it as we get closer to the day. It'd be a miracle to get someone nice let alone someone who will bother to tell us. I will be letting them know at the very start that we want to know and see what happens.
If they won't tell us, I am not sure what we will do. Apart from the fact that I am dying to know what we're having and call Bubby by name there is the fact that if we're having a boy we have a lot of organising and purchasing to do. I don't want to not be prepared and I won't want to go out and stock up after the birth. Plus, I was hoping that we could rearrange Ellie's room soon and I figured that once we knew what we were having we could organise that. If we have a boy we will paint one of the pink walls green, so that will need to be done. I really hate the idea of not being ready, it stresses me out!
I guess we will go back to A Window to Your Womb and get a 3d scan done, although it's pretty expensive. Of course, there's the normal price rise plus since we went they have made it that you can't get gender determination in the Baby Bonding package that we got last time, you have to get the package above. Honestly, I would love to have it done again, I love the pictures and video we got of Ellie but it is expensive. Even if they do tell us tomorrow I will wish we could do this because it was such a great experience.
Before I go I will put up some piccies of Ellie and her new pressies 🙂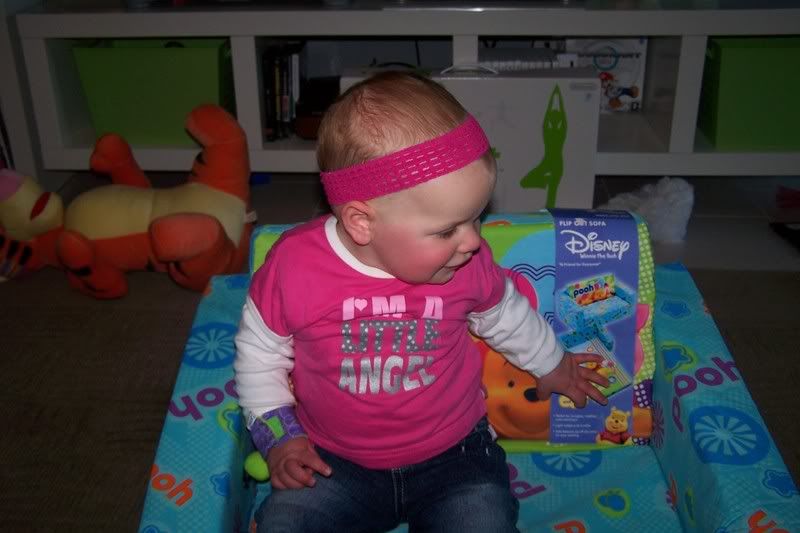 Ellie and her new Pooh bear lounge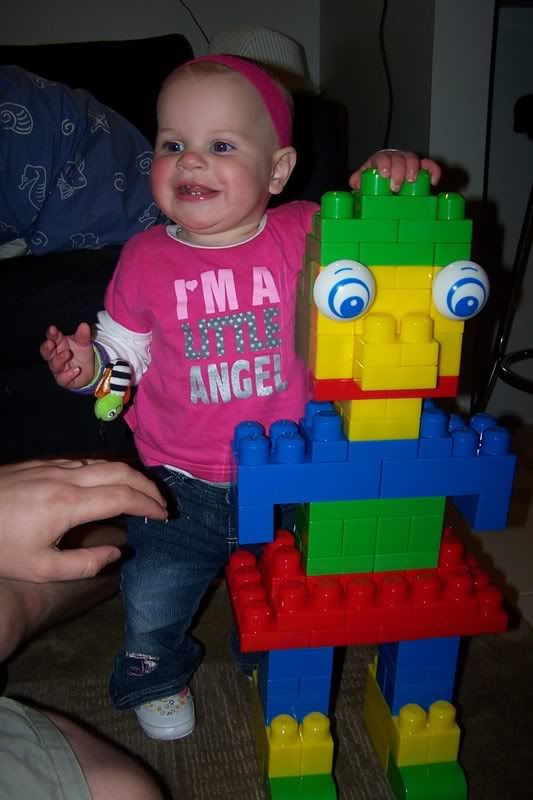 Ellie with the Mega Block person Daddy built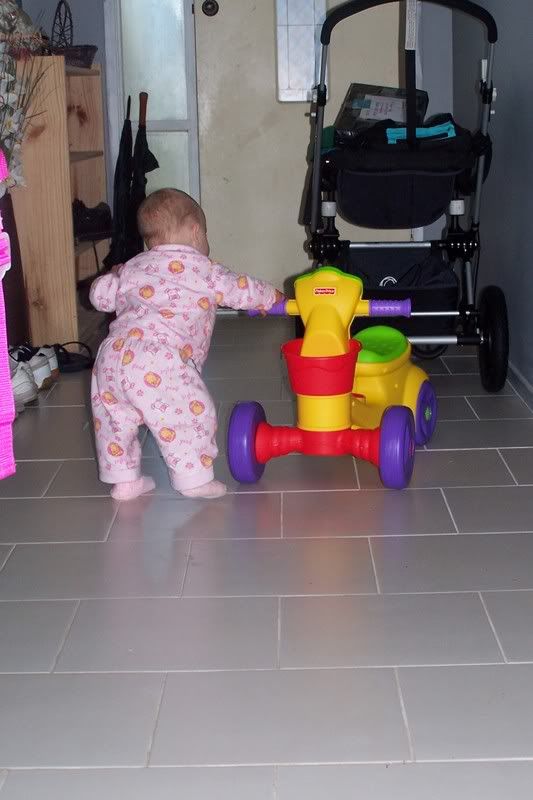 Pushing her bike around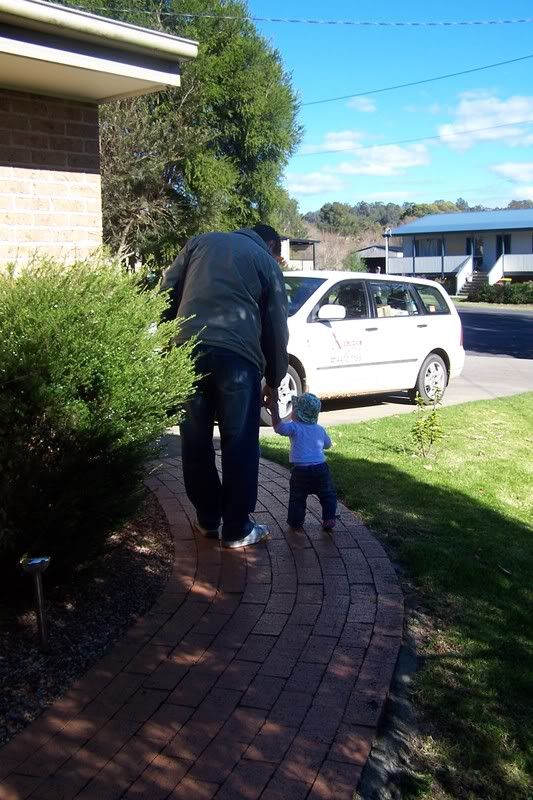 Cute – Daddy and Ellie walking down the path
Oh! Look at what I just found!
Hair Fairy Clips
, they make cute clips for babies that even Ellie could wear! Maybe she can get a few for her birthday, I have been waiting (impatiently) to be able to use clips in her hair and by the looks of it she could have been wearing them for ages! They have a gallery with pictures of babies wearing them and there are some with less than Ellie (now) with the cutest little clips.