Frustrated
Ellie had her first every ice cream on Friday afternoon, our neighbour gave her one, she was very into it!
Late yesterday afternoon, after I had had a sleep and Ellie had helped James with some gardening we went out to the beach. Unfortunately, it was very windy and Ellie seemed a little scared of the noise at first. She didn't want to get down and play at all, she was happy to sit on my lap the whole time and watch the waves, she enjoyed watching – as long as I didn't put her down. Next time we go we will make sure it's a calmer day for her.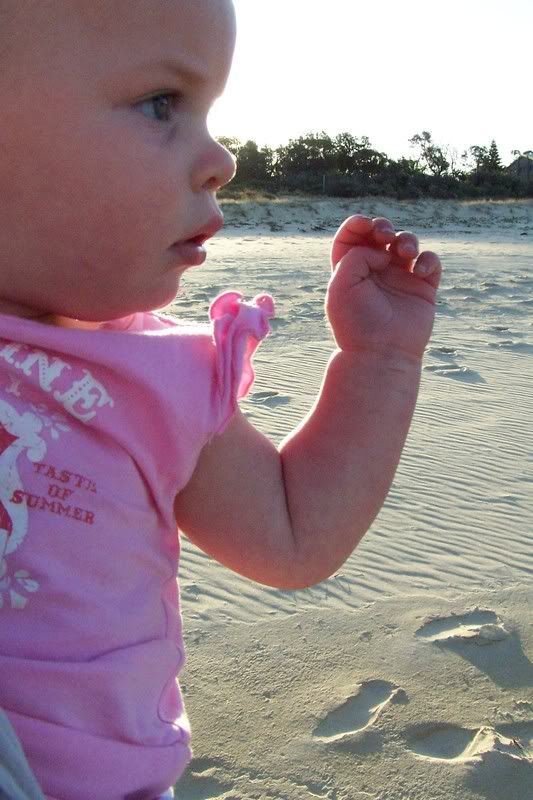 I love this one 🙂

Cuddles with mum – the hand down my top is her thing these days… I'm not sure why she started but I have to find a way to stop her because she does it everywhere! Sometimes she will even pull at my top, like she's checking what bra I'm wearing or worse still… she squeezes me :O It's a very strange little comfort thing.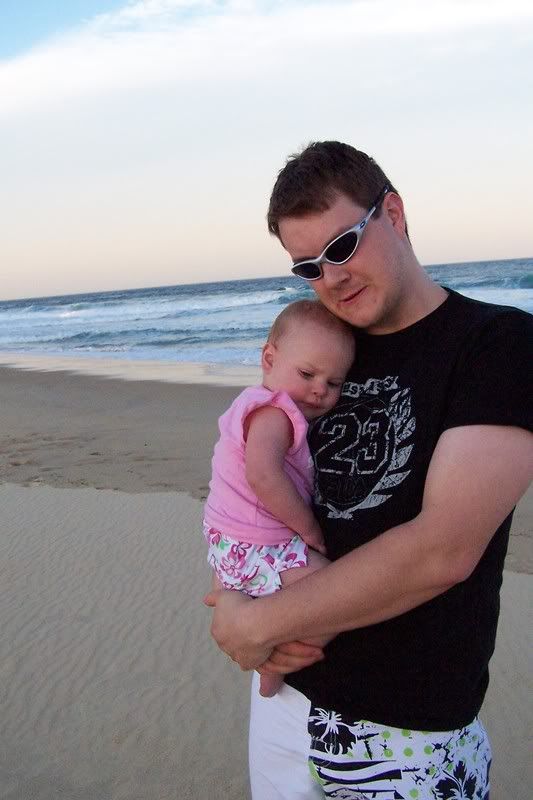 Aww
This week I need to get everything under control as well as get as much rest as humanly possible because the next few weekends are going to be VERY busy for us. Next Saturday we're off to Ikea to get Ellie's big girl bed, the Saturday after that we have our ultrasound in Canberra at Bundles Baby Ultrasound as well as catching up with my family as they're having a holiday – which is very helpful as they'll be able to have Ellie while we have our scan. The weekend after that we're finally off to Bathurst to see my fam, especially Josh who I haven't seen since our visit at New Years. I feel tired just thinking about it all!! I'm excited though, I've been waiting for these things for what seems like AGES.
I have so much I want to get organised before Bubby arrives (only 11 weeks, 5 days OR 80 days away) but I barely have seem to be able get on top of the housework at the moment. I do something and then I am tired and have to take a break (which is what I am doing now), Ellie is overly demanding of my attention currently so that drains me more, too – She is no longer happy to play while I get some things done, I am always having to entertain her or she's trailing after me whinging. I wonder if it's something to do with the baby being so close to coming, maybe she can tell something's going on?
I am getting more and more frustrated everyday when I don't get what I want done. I feel frustrated by Ellie's ability to make a massive mess in other parts of the house while I am tending to another. I feel especially frustrated by the overwhelming exhaustion.
Anyway, on to something more pleasant… Ellie has finally started saying 'Ta' when I give her things 🙂 For awhile there she would only say it when she was giving me something (like she was telling me to say it)! She's a little it funny about it, whenever she says it she seems to whisper.
Okay, I think rest time is over… best get onto something else while Ellie makes a mess where I have already cleaned *sighs*.