We Play: With Uncle Max
With Uncle Max is here to help me out, I sent all three kiddos outside with spray bottles containing a mixture of half paint, half water, a pile of paper and let them loose.
I think this is one of our most successful painting activity for a long time. It lasted until we were all out of paper and even then Ellie wanted to keep spraying the pictures we had hanging up to dry. I really love the effect of the end product and think I will wrap some pressies at Christmas time or something along those lines.
Of course, once all the paper was sufficiently covered there was a need to use up the rest of the mixture by running around spraying each other.
Both girls tried 'sneaking' up on Uncle Max numerous times… but somehow he always seemed to catch them…
Although, sometimes they managed to get him 🙂
And once the spraying was over there was lots of running around and playing chasing until both girls and Uncle Max were thoroughly worn out.
I highly recommend anyone with children get themselves an Uncle Max 😉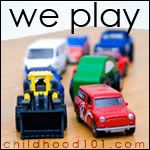 Come play at the
Childhood 101
We Play link up.