Pinocchio Review
Hi. My name is Becky and I am a review-a-holic or maybe just a Disney junkie (probably both, if I was to be completely honest) and I am sure you've noticed more reviews here on BeckyandJames.com than normal recently – if you haven't, where have you been? – but there have been so many opportunities I haven't wanted to pass up of late. I am contemplating a dedicated review blog as I do so love to share my thoughts on products, but that's another post for another day.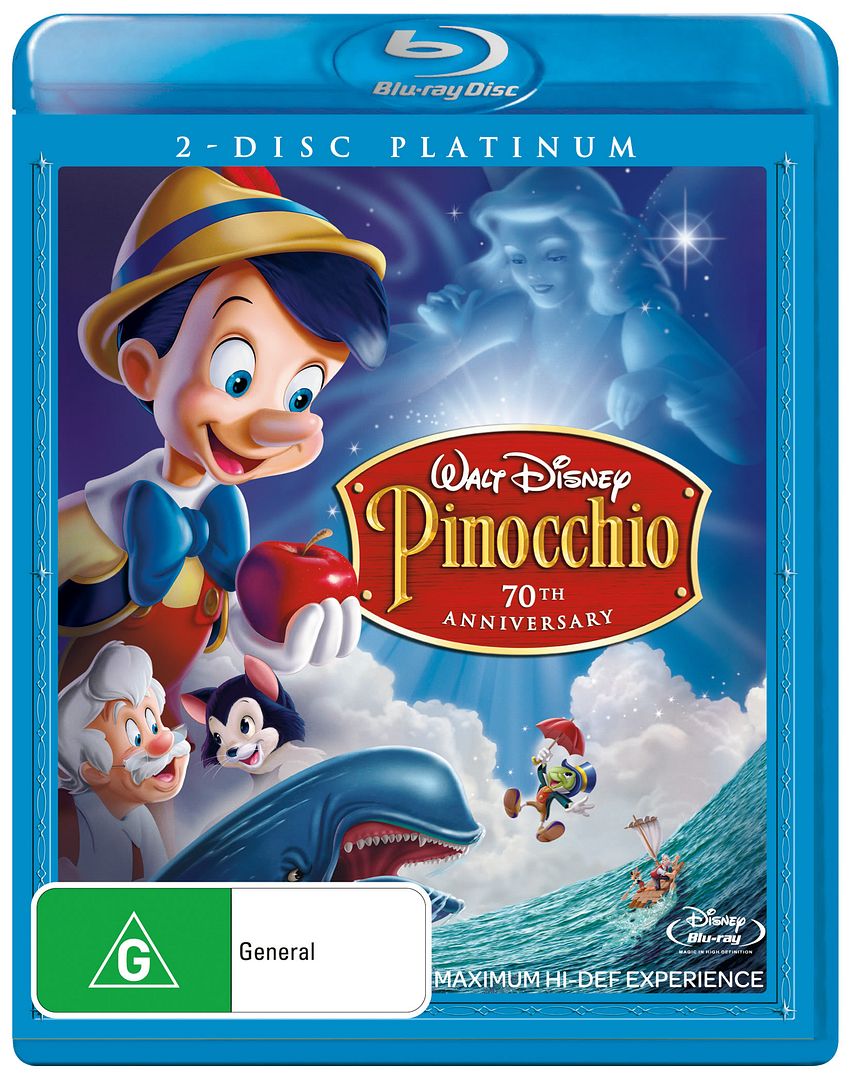 Recently, I found out, too late, that I could have reviewed Snow White before it's return to the Disney Vault on the 30th of June 2011. I teared up a little – yes, I love my Disney movies that much. I have my eye on Kate's giveaway; which will make things right when I win. However, the opportunity to write a piece on Pinocchio, the 70th Anniversary edition of Pinocchio might I add, has helped ease my devastating Snow Whitelessness.
I grew up watching old school Disney movies like Pinocchio with my dear cousin, Casey and re watching them bring back so many happy memories. On top of that, I just love being able to share these beloved characters and stories with my children, creating new happy memories.
When the DVD arrived we were on our way out and on our return Ellie started asking me "Do you think Nokie Noke will be on?" When I asked her what she meant she tapped her foot, hands on hips and said "you know, it came in the mail." Of course it did.
We sat down to watch 'Nokie Noke' and even though it has been many years since I last saw it I still remembered all the words to the songs, which greatly amused both Ellie and Kahlei.
While the girls are used to far more 'advanced' animations, this digitally remastered edition of Pinocchio held their attention and had them thrilled, giggling and gasping throughout. For me it really was like seeing an old friend again. The parts of the movie I used to love are still the bits I adore. The Blue Fairy is still completely gorgeous and magical as she sings 'When you Wish upon a Star' while making Gepetto's wish come true by bringing the wooden puppet, Pinocchio, to life.
As Pinocchio, with his conscience; the witty Jiminy Cricket, strives to become a real boy a story of finding your true self, of acting with honesty and integrity, of bravery and doing the right thing unravels. I am absolutely a fan of underlying morals in movies and am still tossing up whether or not to let my girls believe your nose grows when you tell a fib. Not really, I'm just kidding. Mostly.
The Disney song selection in the DVD Bonus Features is a great addition, the girls and I had a blast singing and dancing around the room after watching the movie. Other extras include deleted scenes, audio commentary, 'Matter of facts' (fun facts about the movie as you watch), a making of and even a 1940 original theatrical trailer.
Pinocchio is available until 30 June 2011, at which point it will be disappearing back into the vault
Rated: G
Price: 2 Disc DVD $39.95
Blu-Ray Value Pack $49.95
Be sure to come back on Thursday when I will have a Pinocchio 70th Anniversary Platinum Edition Blu-ray and DVD pack to giveaway in my April It's ALL About You giveaway.
Disclosure: I received a complimentary review copy of the DVD courtesy of Walt Disney Studios Home Entertainment via Aussie Mummy Bloggers. No financial payment was offered nor accepted for this post. All opinions expressed are purely my own.