5 Ways in 5 Days: Day 2 ~ We Play Hairdressers
Figures they'd suddenly get camera shy
This morning the girls chose glittery accessories for their hair and I tried a side ponytail. Very cute. I've always wanted to be able to pull off the side pony but it's just not something that works with my hair, so having two little girls that are able to wear it is very exciting.
Since receiving the parcel of goodies in the mail for this challenge and starting to help me choose what they want done with their hair, the girls have started playing hairdressers. I just love the natural progression as what's happening in their lives reflects in their play and this one is particularly cute.
Now he's a girl, apparently
They each set themselves up with their toy of choice, a brush and some hair accessories and get to work. Kahlei does a whole lot of chatting and getting distracted (just like many hairdressers I've been to) while Ellie quietly goes about her business, lovingly brushing and styling.
As is to be expected with any hairdresser, they eventually start looking for live models to try their skills on…
Isn't Uncle Caleb a lucky boy?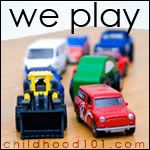 Come see what others are playing
Check out all my 5 Ways in 5 Days posts:
Day 2: We Play Hairdressers <–