Right Now | Linky Love
It's been a while since I've done a Right Now post, so I thought I would share with you my go-to blogs. A good blog read is an important part of my day and, while I can't get around to reading many (and I get around to commenting on even less), I do try to read at least one or even two if I am lucky. Check out some of these fabulous bloggers the next time you get a chance;
Right now, I am loving
Clairey Hewitt
's My Family and Me challenge, encouraging us to get IN the photos with our families, to be present not just in the moments but in the actual recorded memory, too. Every holiday we take, I come home with tonnes of beautiful photographs of my family but I am never there. It's a great challenge to take up and, while I haven't officially played along, I have be getting myself into more family photos.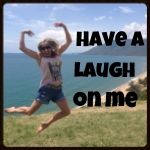 Em is one of my absolute favourite bloggers
. She is funny and friendly, honest, real and easy to relate to. We both have children of about the same ages and so often I feel like I am living a more normal life when I pop over and read her tales.  It's nice to feel like you're not alone in this parenting gig.
Suger Coat It
I'm not really into fashion and I'm not sure I have ever worn anything that has been in fashion, but I just love
Suger's blog
. She is funny and beautiful, positive and honest. She is all about building people up and that's such an important quality for anyone in any type of spotlight. I am pretty keen on her Confident You series and always look forward to her newsletter hitting my inbox.
Caz
has been on my 'must read' list since I discovered her many years ago. She is just so wonderful and one of the few bloggers I have actually met. She is just so lovely. So often her posts reflect thoughts I have myself but have yet to find the words for. I am interested to follow her 2014 Unprocessed posts and adventures as she gets her health back.
So, tell me about your favourite blogs to read?